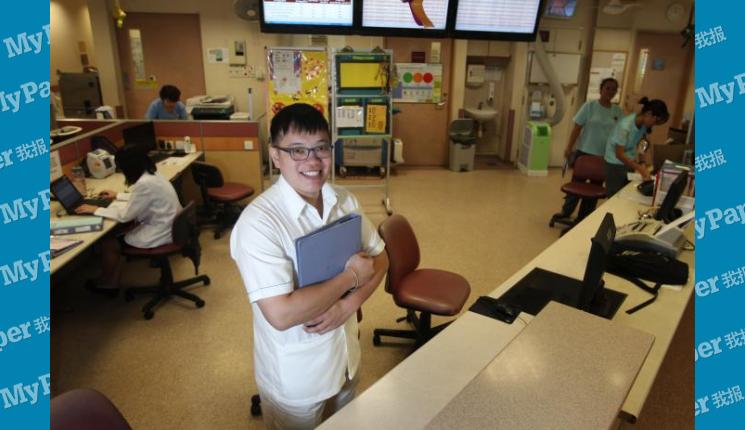 Written by Gwendolyn Ng
BACK in the days when he was a St John Ambulance Brigade cadet, Mr James Tan witnessed a male nurse saving a marathon runner hit by a sudden heart attack.
"The nurse jumped out of the ambulance and rushed to help the man who had collapsed to the ground. I watched on, wishing that I could do something to help," said Mr Tan, now 25.
Etched vividly in his mind, the incident was what inspired him to become a nurse, which he has achieved today.
Still, he has bigger aspirations – like moving into nursing management.
"I want to improve the system, make processes in the ward more efficient to benefit nurses and patients," he explained.
Citing an example at Tan Tock Seng Hospital, where he works, Mr Tan said that after he and his colleagues gave feedback to the management, patient documentation has been streamlined, resulting in a reduction in the nurses' workload.
To achieve his goal, the Nanyang Polytechnic nursing diploma holder realised that he had to further his studies.
On recommendations from fellow nurses and lecturers, Mr Tan signed up for a nursing degree at Kaplan Higher Education Institute at the end of last year.
The two-year Bachelor of Nursing (Post-registration) programme is accredited by the Singapore Nursing Board. The programme is a collaboration between Kaplan Higher Education Institute and Australia's Griffith University.
Although Mr Tan looked forward to the opportunity of upgrading his qualifications and skills, the thought of having to juggle studies and work was daunting initially.
And he was glad that he chose Kaplan: he finds the institute's flexible schedule appealing. Here's how it works: Students attend tutorials and lectures during the first two weeks of the semester. Thereafter, they are given assignments and carry out independent study.
Said Mr Tan: "I still have to work, so it would be too taxing to go for lessons for the entire semester. It would be counterproductive as I would probably be too tired."
Since starting school at Kaplan City Campus@Wilkie Edge, he finds that self-studying allows him to study at a comfortable pace and gain a thorough understanding of subjects.
Lecturers are always on hand to assist students who encounter difficulties or have queries – be it via e-mail or face-to-face sessions.
Mr Tan said: "It's really convenient. We can set up appointments with the lecturers via the school's portal. The availability of each lecturer is stated on the site too."
Beyond learning from the study materials provided, Mr Tan finds it useful to listen to his lecturers speak about their clinical experiences in Singapore or Australia.
"We can relate to our lecturers easily because many of them are former nurses. We can identify with many of the incidents they tell us," he said.
Pursuing a degree in nursing is also a way to show his determination to his parents, who initially disapproved of his career choice.
"My parents have changed their mindset and now ask me to study harder," said the highly motivated Mr Tan.
The thing that keeps him going at his nursing job are the patients. He said: "When some patients are admitted, they are unable to take care of themselves.
"We have to sponge them and shower them with care. When my patients recover, I feel good that they can go home with their family."
For more information on the programme, visit kaplan.constructdigital.net
You may also visit Kaplan Higher Education Institute during its open house on Oct 19, from 12pm to 5pm, at Kaplan City Campus@Wilkie Edge.
Source: http://mypaper.sg/specials/nursing-ambition-change-20130917
Published on Sep 17, 2013